THE ULTIMATE INTERNET BROADCAST ENHANCEMENT

eReplays add an exciting new dimension to Internet coverage of live sporting events by bringing the same unique three-dimensional perspectives QuesTec provides for the television networks (with products such as SuperVision PitchTrax for baseball, TennisProView and GolfProView) right to your computer. eReplays differ from any other aspect of sports coverage ever offered on the Internet in that they continuously show real-time activity (captured live at the site of each event by QuesTec's patented tracking technologies) at almost the same time that activity is actually taking place on the field or on the court. eReplays take place on a pitch-by-pitch or shot-by-shot basis so Internet users don't miss any of the live-action as it unfolds. And because eReplays display a three-dimensional perspective of each sport, they can often better illustrate certain aspects of the action better than any TV camera angle can.



eReplays are used by sports coverage providers (like cbs.sportsline.com and majorleaguebaseball.com), in conjunction with other comprehensive information about each event, to create the most provocative and compelling sports coverage ever offered on the Internet. Are you a die-hard baseball fan? Now, whether you're at home, in the office or on the road you won't have to miss a single pitch of your favorite team no matter what the TV has on. In addition, with a multitude of tournaments taking place year-round, all around the world, tennis and golf enthusiasts will love the upcoming shot-by-shot coverage eReplays will offer, which often can't be found anywhere besides the Internet. And as QuesTec continues to develop exciting new products for other sports like football, basketball, hockey and NASCAR, eReplays will immediately become available for Internet coverage of these sports as well.
While others continue to say the future of digital Internet sports coverage is coming, QuesTec delivers it now!

eSPORTS - REAL-TIME DATA STREAMING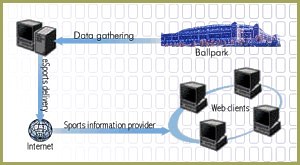 eSports is the data delivery technology behind our eReplays suite of products. eSports instantly delivers the real-time digital information captured at live events worldwide through the Internet. This makes it possible for the live action QuesTec captures at the site of a sporting event to show up instantly as three-dimensional graphics on your computer screen, in synch with the live action as it unfolds. This is made possible because eSports streams only the captured digital data that is then reconstructed locally on your computer. Unlike most other Internet multi-media presentations, eSports technology does not require a high bandwidth connection. A simple dial-up connection is all that is needed to enjoy the most unique and comprehensive sports coverage the Internet has to offer -- making eSports powered multi-media applications widely available today!