THE ULTIMATE BASEBALL BROADCAST ENHANCEMENT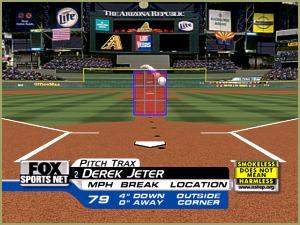 Used for TV broadcast enhancement, Internet eReplay, interactive TV, coaching purposes and to provide strategic game information, SuperVision PitchTrax uses QuesTec's patented tracking technology to create a unique three-dimensional view of the exact trajectory, movement, speed and ultimate plate-location of every pitch thrown during a game the instant after each pitch crosses home plate. Because SuperVision PitchTrax is a three-dimensional perspective it can be shown from any angle or zoom level and it can better illustrate the true movement and location of the baseball than any TV camera angle can.



SuperVision PitchTrax replays can be shown from any one angle or can be animated from one perspective to others in its 3D environment which includes a digitally created field and background designed to look and feel like the actual stadium where the game is being played. In addition, because each pitch is automatically stored by the software (both throughout the game and throughout the season) any sequence of pitches can be instantly recalled and displayed individually, as a full-screen group or as a split-screen comparison.
This pitch-grouping feature allows TV networks to show the pitch-sequence to any hitter for a just completed at bat, immediately after the decisive pitch has crossed home plate. It can also display any number of pitches in any order to illustrate crucial pitches, key at bats, enticing matchups, or pitching tendencies. For example, the pitch-grouping feature might be used to show the location of all the pitches that resulted in hits before a pitcher was pulled in favor of a reliever, or it might show the pitch-sequences used to strike out a .320 hitter three times in a game. Because SuperVision PitchTrax stores every pitch throughout the season, the grouping feature could also be used to show how a particular relief pitcher worked to a certain slugger the last time they faced one another before the matchup actually occurs again in today's game. Any group can be displayed as a full-screen graphic, as a split-screen comparison (between two at bats for example) or as a split-screen combining any other video source with the SuperVision PitchTrax display. All of SuperVision PitchTrax's features combine to make it the most comprehensive tool in baseball when it comes to illustrating the difference between certain kinds of pitches, describing pitching trends within the game, showing outstanding pitches made or costly mistakes given up, and comparing key at bats and situations during a game. SuperVision PitchTrax brings new color to broadcast commentary (FOX Sports Net Ohio's color-commentator Rick Manning says, "I feel naked without it anymore…") and adds unique replay options during television coverage. Importantly, SuperVision PitchTrax can also generate revenue for the television networks as a new medium for advertiser sponsorship. And, as with all of QuesTec's products SuperVision PitchTrax can be applied into other areas, such as webcasting, "Interactive TV" and video game development as well.
Beyond its applications in broadcasting, webcasting and "Interactive TV," SuperVision can also be used as an aid to the players, coaches and team management. To date, the system has been used by the Anaheim Angels, Atlanta Braves, Arizona Diamondbacks, Baltimore Orioles, Boston Red Sox, Chicago Cubs, Chicago White Sox, Cincinnati Reds, Cleveland Indians, Colorado Rockies, Detroit Tigers, Florida Marlins, Houston Astros, Los Angeles Dodgers, New York Mets, New York Yankees, Oakland Athletics, Pittsburgh Pirates, San Diego Padres, San Francisco Giants, Seattle Mariners, St. Louis Cardinals, Tampa Bay Devil Rays and Texas Rangers, during games which aired over various television networks.
In addition to a growing number of regional television contracts during the regular season SuperVision information was most recently contracted for use on an international scale by FOX Sports.com and WorldSeries.com for the 2001 World Series interactive hitting game "Hit The Pros". SuperVision was contracted the previous two years by CBS Sportsline and MajorLeagueBaseball.com for Internet coverage of the 2000 All-Star Game from Turner Field in Atlanta and the 1999 All-Star Game from Fenway Park in Boston and during the World Series classic between the Yankees and Braves. 1998 saw SuperVision as the star attraction on Williams ChoiceSeat in-stadium interactive system during the World Series between the Yankees and Padres. And in 1997 SuperVision PitchTrax was contracted nationally by NBC Sports during its coverage of both the National League Championship Series and the World Series between the Florida Marlins and Cleveland Indians.
Efforts are also currently under way to further introduce SuperVision PitchTrax internationally, with a strong emphasis being focused on Japanese and Australian professional baseball.