THE ULTIMATE TENNIS BROADCAST ENHANCEMENT



| | |
| --- | --- |
| TennisProView uses QuesTec's patented tracking technology to capture live action during match play tennis and instantly create a computer-generated, three-dimensional view of the exact trajectory, movement, speed and court location of the ball. As with QuesTec's other television enhancement products, TennisProView's three-dimensional perspective can be shown from any angle or zoom level to better illustrate the true movement and location of the ball than any TV camera angle can. In addition, because each shot is automatically stored by the software (throughout each game, set and match) any sequence of shots can be instantly recalled and displayed individually, as a full-screen group or as a split-screen comparison. These features combine to make TennisProView the most comprehensive tool in tennis when it comes to showing the exact location of certain shots with respect to the lines, breaking down the difference between first and second serves, illustrating "spray-charts" of serve locations throughout a match, and so much more. All of TennisProView's features bring an exciting new edge to broadcast commentary (providing commentators with a definitive perspective in the booth), and add a unique replay option for the networks on serves, critical "kill shots" and close line calls. As with all of QuesTec's broadcast enhancement products, TennisProView also has the potential to generate revenue for the TV networks as a new medium for advertiser sponsorship. TennisProView can also be applied beyond its broadcasting applications into such areas as webcasting, "Interactive TV," and video games. | |
This year TennisProView has been contracted to provide exciting replays during live TV coverage of the newly formed Tennis Masters Series for ATP Tennis. The Tennis Masters Series is part of the recently introduced ATP Champions Race, where the player who accumulates the most points by the end of the year becomes the world's number one ranked player. All the top players in the world are required to compete at all nine Tennis Masters Series tournaments, with featured tournaments at -- Indian Wells (March 13 - 19); the Ericsson Open (March 23 - April 2); Monte Carlo (April 17 - 23); Roma (May 8 - 14); Hamburg (May 15 - 21); Toronto (July 31 - August 6); Cincinnati (August 7 - 13); and the Tennis Masters Cup, Lisboa (November 28 - December 3.) In addition to this impressive TV contract for 2000, TennisProView has teamed up with Kabel New Media -- the official provider of web services for the Masters Series -- to produce "Real Video" clips of critical individual serves and serve patterns throughout the course of each tournament. These clips are constantly updated and displayed on the official website of the Masters Series -- www.masters-series.com -- under the heading "Video Highlights."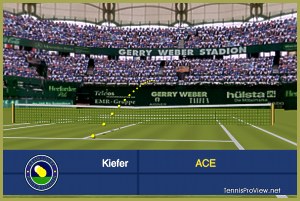 Other highlights for TennisProView include its featured use on both FOX SportsNet and the Madison Square Garden Network (MSG) during weeklong coverage of the Chase Championships, from New York City, in November 1999. Also in November 1999, TennisProView was featured on the World-Feed of the Eurocard-Open in Stuttgart, Germany, which was transmitted to over 150 countries and broadcast by such major networks as ESPN, the BBC, EuroSport and Sky. In May of last year TennisProView made its first appearance at a Grand Slam event during French National Television coverage of the French Open. Last March TennisProView was seen throughout the United States during FOX's national broadcast coverage of both the Lipton Championship and the Family Circle Cup. Other highlights from 1999 for QuesTec.com's TennisProView system included featured appearances on various networks during coverage of the WTA Sparkassen Cup from Leipzig, Germany; the Mercedes Cup from Stuttgart, Germany; the Gerry Weber Open; the Franklin Templeton; the Kroger/St. Jude and the Sybase Open.

Since TennisProView made its television debut in 1998 at the ATP World Championships it has clearly moved fast to become an integral part of both TV and Internet coverage of top tennis tournaments around the world. While this year continues to break new ground for TennisProView, negotiations with various networks, Internet Sports Information Providers and sponsors are continuously taking place for future events.